Wilhelm Friedrich Giering
Principal's Parents
Spouse's Parents
Johannes
Giering
Catharina
(Romig)
Giering
John
(AKA Johann)
Renatus
Kreiter
Anna
Louisa
(AKA Mary)
(nee Hornig)
Kreiter
AGE:22
PAGE:012_010
AGE:20
AGE:
PAGE:
AGE:
The Principal
Principal
Spouse
Statistics
Name
Relationship
Name
Statistics
DOB:Feb 6, 1794
Baptized: Feb 9, 1994
See Note under Commentary below.
POB:Emmaus, Pa.
DOD:August 11, 1873 - For Cause: see below
POD:Emmaus, Pa.
POI:
Wilhelm
(AKA William)
Friedrich
Giering
DOM:May 18, 1817
POM:Emmaus, Pa.
Henrietta
Louise/Louisa
(Kreiter)
Giering
DOB:Mar 11, 1796
POB:Bethlehem, Pa.
DOD:Apr 29, 1861
POD:Emmaus, Pa.
POI:God's Acre #301
Children of this Union
Sarah
Louise/Louisa
Giering
Beata
UMN
Giering
John
Levi
Giering
Rebecca
Mathilda/Mathilde
Giering
Lavina
Catharina
Giering
Page:014_001
DOB:Dec 4, 1818
POB:Emmaus, Pa.
DOD:Dec 5, 1818 (Stillborn)
POD:Emmaus, Pa.
POI:
Page:014_002
Page:014_003
Page:014_004
SOURCE

Date of Action
What or Who is reported upon.
What is the source(s) - From Where does the Information come.




Early, 1985

Initial Information
Research by Author's sister, Sandy




Date of Action
What or Who is reported upon.
What is the source(s) - From Where does the Information come.




July, 1996.

Pages 33 & 79: See note on difference on DOB for Principal
Emmaus Moravian Church Records in the Moravian Archives, as found by Author and Wife on visit



OCCUPATION:Carpenter (learned in his youth in Bethlehem)
ADDRESS:N/A
EDUCATION:Unknown
MEDICAL INFORMATION:Cause of His Death: Severe Strokes.
COMMENTARY:
Note on DOB: Page 33 of the Archives indicates a DOB of Feb 6 (with the date of Baptizm); Page 79 of the archives and the gravestone indicate that the DOB was Feb 5.
For Church Association:
1833 - Apppointed to committee to report to council on erecting a new church building and Parsonage.
1835 - Appointed Construction Supervisor of new church building and parsonage.
For Village:
Feb 3, 1842 - Appointed Master of Wells.
GRAVE SITE PHOTO: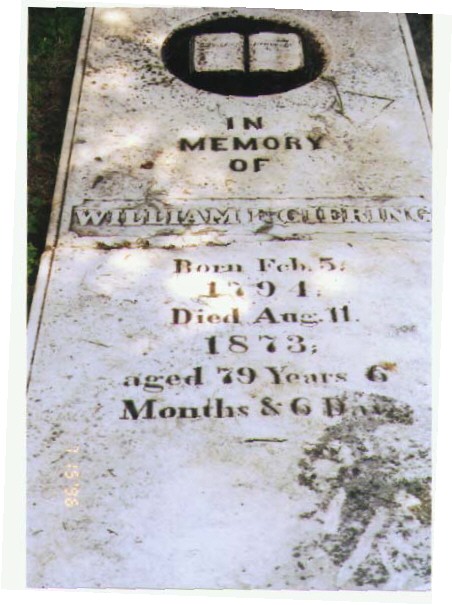 ---
COPYRIGHT © 1997 and beyond, Richard (Dick) Giering
All rights reserved; Copies may be made without prior permission ONLY with credit to the Author