Jennifer Lynn Giering
019_056
Principal's Parents
Spouse's Parents
Warren
Percival
Giering
Linda
(Lorentz)
Giering
Unknown
Unknown
AGE:29
PAGE:018_115
AGE:23
AGE:
PAGE:
AGE:
The Principal
Principal
Spouse
Statistics
Name
Relationship
Name
Statistics
DOB:Aug 24, 1970
POB:Boston, Mass
DOD:
POD:
POI:
E-MAIL:dagnyvoice@aol.com
Jennifer
Lynn
Giering
DOM:
POM:
None
DOB:
POB:
DOD:
POD:
POI:
No Children
SOURCE:Initally Father, Warren, then letter from Jennifer (Dec 1,1996)
OCCUPATION:Freelance Composer and Singer in Musical Theater (see below for more information).
ADDRESS:
720 Greenwich St
New York, NY 10014
212-242-1976
EDUCATION:
MFA in Composition, Musical Theater Program, Tisch School for the Arts, New York University.
AB in Music Theory and Composition, Magna Cum Laude, Harvard & Radcliffe Colleges
RESUME':
JENNIFER GIERING, Composer, singer and pianist, has degrees as stated above. Since arriving in New York in 1992, she has appeared with New York Theater Workshop, The American Opera Project, New York Gilbert and Sullivan Players, Theater Arts Productions New York, and in concert appearances at Carnegie Hall and Alice Tully Hall. Her Musical Director credits include Phantom of the Opera for Theaterworks/USA, and the Harvard Community Players' award-winning production of A...My Name is Alice which placed fifth in June,1995 in the American Association of Community Theaters' National Competition in Midland, Texas. Harvard Community Players also recently produced her one act Still Life (David Javerbaum, Lyricist), which was the state winner at the Eastern Massachusetts Community Theater Drama Festival and received a special adjudicator's award for writing and composition. Still Life placed third in the New England festival and again received an award for excellence in writing. Jenny also recently finished her first commission for Carolyn Dorfman Dance Company. Portrait, a 17--minute vocalese with piano accompaniment, was premiered at the Sylvia and Danny Kaye Playhouse in June, and was also performed in September at The Yard, a colony for performing artists on Martha's Vineyard, Massachusetts. Jenny is the 1996 NATS Art Song Competition winner for The Mistress Cycle, written with lyricist Beth Blatt, the first four songs of which will be premiered in St. Louis in December and published by Boosey and Hawkes. Jenny recently had the good fortune to work as assistant music director and sing in the cast of I Love A Parade, a new musical by Alfred Uhry and Jason Robert Brown, and directed by Harold Prince, at the American Music Theater festival in Philadelphia. At Harvard, she was the 1991 recipient of the Doris Cohen Levy Prize for Achievement in Musical Theater, and the 1992 recipient of Radcliffe's Isobel Briggs Traveling Fellowship. She is a teaching artist in music for the Lincoln Center Institute and a member of the Dramatists Guild and the BMI/Lehman Engle Advanced Musical Theater Workshop.
ORIGINAL MUSICAL SCORE:
The Mistress Cycle (in Progress), book and lyrics by Beth Blatt. (1996 First Prize Winner, National Association of the Teachers of Singing Art Song Competition)
Playing at Love (in Progress), book and lyrics by Brian Crawley, The Directors' Company 1996 Hal Prince Musical Theater Development Program recipient.
King James and the Indian Incidental music) by Tony Howarth, The Mint Theater, June-July, 1995
At the Met (in Progress) book and lyrics by Beth Blatt
Show (in Progress), book and lyrics by David Javerbaum. Written to fulfill the degree requirements of Master of Composition, Musical Theater Program, Tisch School for the Arts, New York University.
Still Life (one act), book and lyrics by David Javerbaum. (State Winner, Eastern Massachusetts Association of Community Theaters 1996 Drama Festival. Special commendation for excellence in writing and musical composition.)
Supposing Rommilly, book and lyrics by Brad Rouse
The Tooth of Crime, (Incidental Music) by Sam Shepard, Quincy House Productions, Harvard College.
Remote Control, written for Reading, Rhythm, and Remote Control, the 1991 Citystep Production.
Mixing the Palette, written for Specs and Steps: The Quest for Color, the 1990 Citystep Production.
COMMISSIONED WORKS
Untitled work-in-progress for the Carolyn Dorfman Dance Company to be premiered at the opening of the Newark Center for the Performing Arts in November, 1997.
Portrait (for soprano vocalese and piano)for the Carolyn Dorfman Dance Company. Premiered June 7,8, 1996 at the Sylvia and Danny Kaye Playhouse, Hunter College.
Actions are the Music of the Free, for New York University's Liberation series Symposium in honor of Bella Abzug's participation in the International Women's Conference, Beijing, China. Lyrics by Barbara Kahn and Jackie Freeman. Also performed at the United Nation's tribute to Dame Nita Barrow, March, 1996.
Galatians(solo soprano and piano), for Jill and John Stevens.
Untiled(for soprano, flute and guitar), for the Massachusetts conference of the United Church of Christ, based on Psalm 104.
The Grace Mass (SABT, Organ and Piano) for the Grace Church, Framingham, MA.
Seafarer(SABT and piano), for the Harvard Pro Musica.
Four Songs for Children, for the Longy School of Music, Cambridge, MA.
AWARDS AND HONORS:
BMI-Lehman Engel Advanced Musical Theater Workshop.
Tisch Scholar, 1993ÿ2D1994, New York University.
Horblutt Prize for Performance, Harvard University.
PHOTOThe following is Jennifer's official photograph: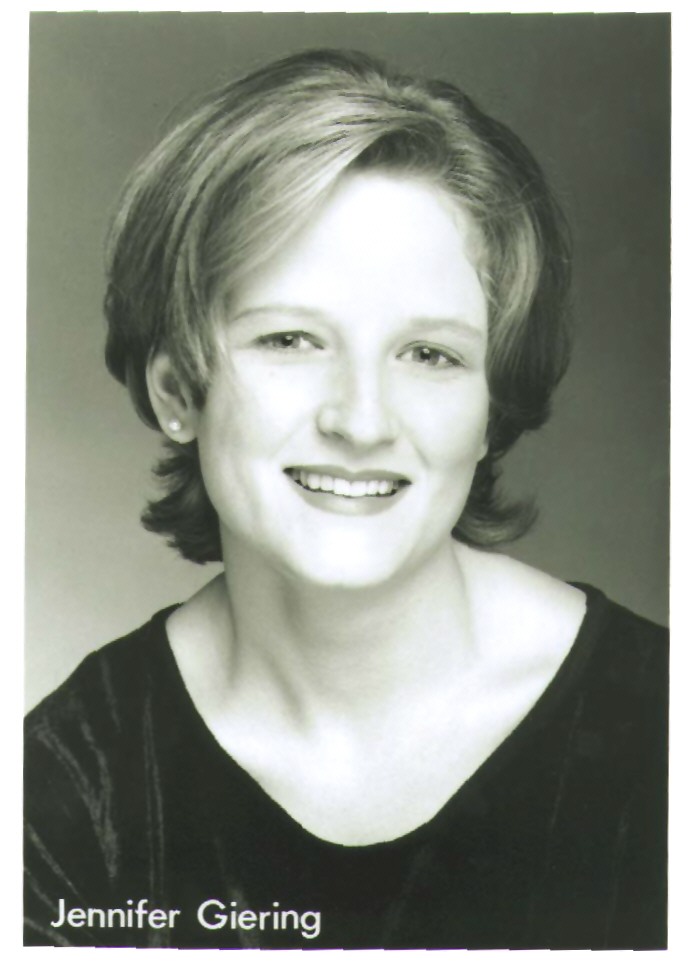 ---
COPYRIGHT © 1997 and beyond, Richard (Dick) Giering
All rights reserved; Copies may be made without prior permission ONLY with credit to the Author